Italian Society of Vegetation Science
Società Italiana di Scienza della Vegetazione
52nd Congress - 52° Congresso
Role and Opportunities of Vegetation Science in a Changing World
Cambiamenti globali: ruolo e opportunità della scienza della vegetazione
5-7 April, 2018 (Catania)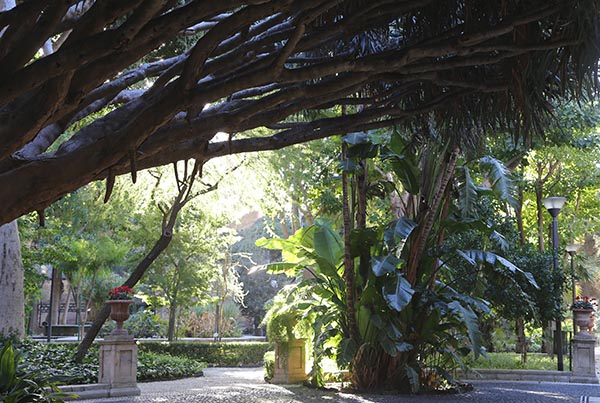 1st Circular / 1a Circolare
Provisional program/Programma provvisorio
Call for Oral Presentations and Posters / Chiamata per comunicazioni e poster
The 52nd Congress of the Italian Society of Vegetation Science is devoted to the topics that modern society is experiencing in a very conflicting way: global changes, loss of biodiversity, alien species invasion, natural capital, green economy, as well as the application of phytosociology to the realization of urban forests. As traditionally happened, the Social Congress is an opportunity for the SISV members to meet and discuss the most relevant issues concerning the vegetation science and its application, to establish collaborative relationships and, not less important, to address the scientific research topics.
Il 52° Congresso della Società Italiana di Scienza della Vegetazione è dedicato ai temi che la società moderna sta vivendo in maniera molto conflittuale: i cambiamenti globali, la perdita di biodiversità, le invasioni di specie aliene, il capitale naturale, la green economy, le infrastrutture verdi e in particolare l'applicazione della fitosociologia alla realizzazione delle foreste urbane, ecc. Il Congresso sociale, come tradizione, è un'occasione per i soci della SISV per discutere e approfondire le tematiche attuali, un momento di confronto per stabilire rapporti di collaborazioni e, non meno importante, per indirizzare la ricerca scientifica.
Thursday 5 April 2018/Giovedì 5 Aprile 2018
11:00-14:00 – Congress Registration / Registrazione al Congresso
Opening of the 52nd Congress of the Italian Society of Vegetation Science
Apertura del 52° Congresso della Società Italiana di Scienza della Vegetazione
14:00 – Welcome of the Organizing Committee and Local Authorities - Saluti di benvenuto degli organizzatori e delle autorità
14:15 – Session 1: Vegetation Science and Climate Changes - Scienza della vegetazione e cambiamenti climatici [Chair: Marco Caccianiga]
18:00 – Poster Session / Sessione Poster
19:00 – Welcome reception / Aperitivo di benvenuto
Friday 6 April 2018/Venerdì 6 Aprile 2018
9:00 – Session 2: The contribute of the vegetation science to the realization of urban forests - Infrastrutture verdi e cambiamenti climatici: il contributo della Scienza della vegetazione alla realizzazione di foreste urbane [Chair: Gianpietro Giusso del Galdo]
12:00 – Session 3: Alien Plants and Invasibility of Plant Communities and Habitats -Specie aliene e invasione di comunità vegetali e habitat [Chair: Lorenzo Lastrucci]
13:30 – Lunch
14:30 – Session 3: continued [Chair: Simonetta Bagella]
15:30 – Session 4: Briosociology: current status and future perspectives - Briosociologia, attualità e prospettive [Chair: Maria Privitera]
17:30 – Free Session / Sessione libera
18:30 – SISV General Assembly /Assemblea dei soci SISV
20:30 – Social dinner / Cena Sociale
Saturday 7 April 2018/Sabato 7 Aprile 2018
9:00-18:00 – Social excursion /Escursione sociale
Scientific Board - Comitato Scientifico:
Marina Allegrezza, Silvia Paola Assini, Simonetta Bagella, Salvatore Brullo, Marco Caccianiga, Anna Rita Frattaroli, Gianpietro Giusso del Galdo, Guarino Riccardo, Pietro Minissale, Pietro Pavone, Marta Puglisi, Giovanni Spampinato, Roberto Venanzoni, Daniele Viciani.
Organizing Committee - Comitato Organizzatore:
Gianpietro Giusso del Galdo, Pietro Minissale, Marta Puglisi, Saverio Sciandrello, Cristian Brullo.
Secretary – Segreteria:
Silvia Paola Assini (sisv2010@unipv.it)
Venue:
Università degli Studi di Catania
Palazzo delle Scienze
Corso Italia, 55
Catania (Italy)
REGISTRATION TIMETABLE / CALENDARIO REGISTRAZIONE
Link for Registration form and submission of Communications and Posters available/
Link per la Scheda di registrazione e inserimento riassunti di comunicazioni e Poster
http://scienzadellavegetazione.it/sisv/evento/elenco.jsp
SISV 52

SISV 52

SISV 52

SISV 52

SISV 52

ISCRIZIONE 52° Congresso Società Italiana di Scienza della Vegetazione

52° CONGRESSO

< 31

GEN 18

< 20 MAR 18

5 Aprile

CONGRESSO

SOCI (Strutturati*)




125

150

180

SOCI (non strutturati°)




100

100

100

NON SOCI




150

180

200

Accompagn.




50

50

50

Escursione




15

15

20

Cena SOCIALE




30

30

30

Totale













SISV 52

SISV 52

SISV 52

SISV 52

SISV 52

* In genere lavoratori Università, professionisti, pensionati in regola con le quote associative.










° (non occupati stabilmente) Studenti, assegnisti, borsisti, ecc. senza limite di età in regola con le quote










NOTA: Qualsiasi persona ritenga non avere i mezzi per partecipare può rivolgersi a Segreteria SISV sisv2010@unipv.it










SISV 52

SISV 52

SISV 52

SISV 52

SISV 52
Registration fee should be paid by bank transfer using below BANK coordinates
Le quote possono essere pagate solo tramite bonifico bancario all'IBAN sotto riportato
Bonifico Bancario / Bank Transfer to
Società Italiana di Scienza della Vegetazione
presso UBI BANCA A.p.A.
5635 - Filiale di Pavia San Paolo
Piazzale Gaffurio, 9 27100 PAVIA
IBAN IT29K0311111307000000028843
ABI 03111 CAB 11307
BIC/SWIFT BLOPIT22635

Location: Dipartimento di Scienze Biologiche, Geologiche e Ambientali
Università di Catania -
Via Longo 19
95125 Catania - Italy

Department of Environmental Biology, Sapienza University of Rome, 00185, Tome Italy